Biografie
Biography
Zum Künstler
About the artist
Die Kunst des Lebens
DVD
Zur Kunstausübung
Skizzen
Bilder
Pastelle
Guckkasten
Collage
Aquarell
Fresko
Auszeichnungen
GALERIE | FRÖHLICH
Lastenstraße 38, 4020 Linz

Besuch nach Vereinbarung.
Tel: +43-699-115 41 490
Biography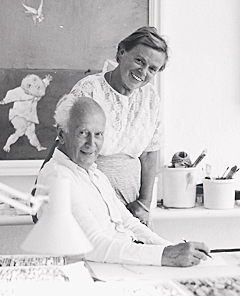 1910 Born in Linz.
1929-1937 Studies at the Academy of graphic art in Vienna in the classes of Wilhelm Dachauer and Ferdinand Andri
1934 Dedication to the art of the late gothic period
1937 Participation in the exhibition "Austrian Contemporary Art". Austrian State Award. (He received this price two times more - 1947 and 1948.)
Since then freelance artist in Linz.
1938 A fire in the studio destroys all his early works (except a small number that is not stored in the studio). Destruction of all documents and personal belongings. The continuity of his artistic work is interrupted.
1941 Marriage with Beatrix Weißgärber. Service in the army until the end of the war. Attempts to continue the period of 1937 are given up without any results.
ab 1946 Different artistic experiments.
1958 First trip to Italy. (Insight on urban development and squares)
Awarded the title Professor. Fresco in the Linz Theatre "Myth of Orpheus"
1961 Journey to Spain. Lasting impression of the extensive landscape - cosmic aspect.
The discrepancy of Moorish culture and the Renaissance palace of Charles V in Granada leads to insights in the morphology of works of art.
1962-1964 The human being becomes the focal point of reflection.
1965 Fresco "The twelve tribes of Israel" in the Linz Synagogue.
1972-1978 Growing realisation of this idea adding misinterpretations to his pictures.
Increasing number of exhibitions.
1978-1989 Expansion of this idea to all manifestations of the individual in their personal surroundings: relations, overlap, imprint.
1983 Honorcross for science and art first class.
Numerous prizes.
1989 Alfred-Kubin-Prize of the country of Upper Austria.
1993 Begins the work on the ceiling fresco in the hall of the cathedral of Wilhering "Ship of Fools"(Opening 1995)
1995 Golden culture medal of Upper Austria.
2000 Great retrospective in the Linz city museum Nordico.
Medal of merit of the city of Linz.
Heinrich-Gleißner-Prize 2000.
2001 Fritz Fröhlich dies of a fall on November 19th.
e-mail: kunst@galerie-froehlich.at