About the Artist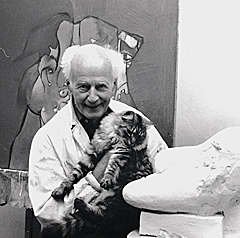 FRITZ FRÖHLICH may certainly be regarded as one of the most expressive Austrian artists of the 20th century. His works are committed to concreteness and - from his middle years on - are intensified by the traditions of the New Functionalism and the close examination of Picasso's works, thus leading to an unmistakable style of his own.
His artistic roots may be found in Pieter Brueghel. He highly valued Picasso's ability to freely face the phenomenon of "art".

In his oeuvre, he – like Picasso – mostly devotes himself to the phenomena of human states and conditions – both, en face and in the profile at the same time. Fritz Fröhlich examines and stains the bright sides as well as the dark sides of mankind. The artist, coming from the surroundings of Linz, was not affected by any trends of art and always regarded himself as a classic Modern Age far away from Post-Modernism and Avantgarde.

Prof. Fritz Fröhlich and his art are part of the history of art of the 20th century.
Over the course of the years his works were to be seen in numerous exhibitions, for example in Vienna, Tokyo, Bombay, Amsterdam, Dublin, Geneva, Milano or Toronto. His three Grand Austrian State Awards, his academic title of a professor and his numerous honors and awards brightly reflect his immense creative power.

He is an exact observer, looking behind the curtain of human nature with a slight mockery and a sharp eye. Themes occurred to him virtually "playfully", as if by magic. Quotation Fröhlich: "The world is crazy enough, one doesn't have to search for a long time at all."

However, his irony is never subversive. While the alarming fright and danger in his artist colleagues drawings, who like to smash reality, connote an impression of humankind that is marked by fear, force and despair, Fritz Fröhlich always also makes cheerfulness and human blitheness appear.

The style of his drawings is borne by his own principle of arrangement, which the artist describes himself as "harmonikal".

For Fritz Fröhlich neither the world nor life means a puzzle, but rather a secret. With the artist's own words: "Puzzles are supposed to be unraveled, secrets to be noticed in reverential astonishment, however".

Fritz Fröhlich was always proud of having lived for art only and of never having been dependent on anything or anybody. His artistic versatility is thereby astonishing.

Innumerable outlines, pastels, acryl pictures, collages, watercolor paintings and show cases, so-called peepshows, as well as his imposing fresco work extensively bear witness of the human and artistic existence of Fritz Fröhlich. One of his best known fresco work after the 2nd World War is the artist's conception of the "the twelve tribes of Israel" in the Linz synagogue.

After his Grand Austrian State Awards in the immediate post-war period, he was awarded the academic title of a professor in 1958, continuously won numerous prizes and in the eighties eventually was awarded the honor cross for science and art 1st class (1983).
Fröhlich was honored with the "Kubinpreis", the "golden cultural medal" of the country Upper Austria, the medal of merit of the city of Linz and the "Heinrich Gleißner" prize in 2000.

Wilhelm v. Humboldt once stated: "It occurred to me that one actually does not know life, until seen in context with death in some way and the circle is closed."

Prof. Fritz Fröhlich always wanted to get to know the whole life. His circle of life was closed in 2001.

He remained artistically minded and active almost until his death in November 2001.